Preservation Information...
Thanks for your interest in preserving your flowers!
Here you'll find more information about the floral preservation process.
Framed Florals clients love the minimal, airy, and organic aesthetic of our work. It's the modern and non-traditional way to preserve your flowers. We pride ourselves on our exclusive, unique, and fine art inspired products. Each frame is designed and handcrafted in Brooklyn, New York.
preserving flowers, & creating a bespoke heirloom piece of art. We love a variety of color. Varying textures and elements, airy and light. We love interesting shapes and sizes in our work! Framed Florals pieces while minimal, hold significance and love in their compositions. Without being overtly 'wedding' your frame will hang in your home for years to come as a sweet nod to your day.
Floral preservation is a slow art form and a ton of time and attention to detail goes into each frame. Because of that, Framed Florals only accepts a few commissions a month. Framed Florals suggests inquiring at least a month prior to your event. Spots fill up very quickly. Any inquiries after that time will be accepted on a case by case basis, or we will suggest other preservation artists.
Click here for a list of flowers that press nicely.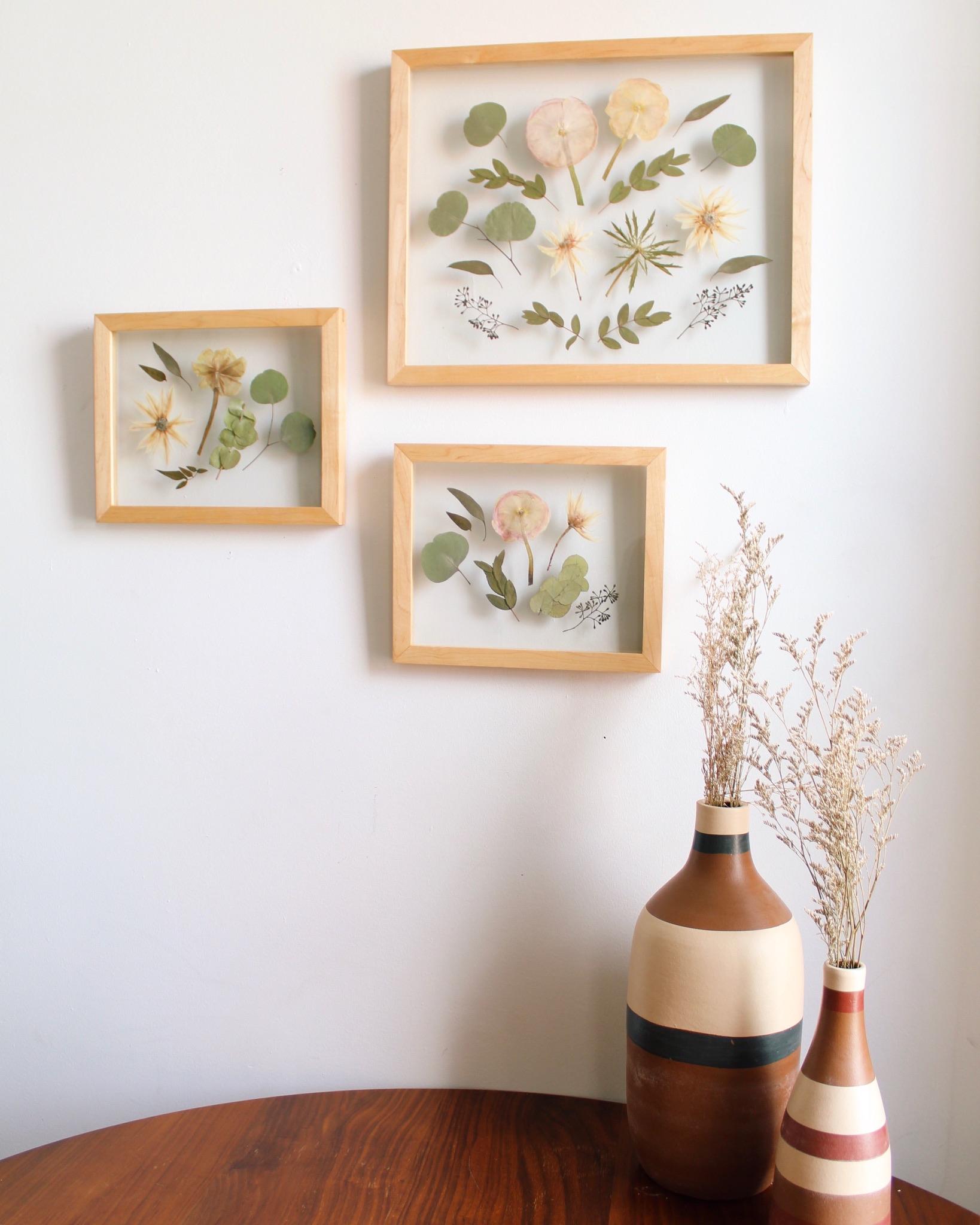 arrangements of only one type or color of flower. All white flowers have the highest chance of browning and so we don't accept all white arrangements. Certain flowers such as, calla lilies, dahlias, roses, lilies, lisianthus, snap dragons, wax flowers, mums, chrysanthemums, anthurium, tulips, asparagus ferns, white orchids, tropical varieties, will not press well with our methods. Any thicker flowers will not fit in our minimal thin frames. We do not work with roses because when reassembled they tend to look unnatural and don't fit the Framed Florals aesthetic.
mailing & dropping off your flowers
If you're not local to NYC or don't have time to drop off flowers to the Greenpoint Studio, here's a blog we wrote about shipping flowers.

If you're able to drop off your flowers at the studio, hooray! Appointments to drop off at the studio are M-F 10am-4pm. (It takes about 2 hours to deconstruct and press your flowers, so we don't accept drop offers later in the evening.)
We would love to meet you! Reach out to coordinate a time to come by.
Whatever flowers & greenery from your wedding you can fit into the box, feel free to ship or bring with you to the studio! This helps to ensure that we have more than enough flowers to work with! (The flowers from your bouquet tend to be the most damaged since they're out of water for so long.)
composition & framing your flowers & Purchasing
Your flowers will be pressed for 4 to 6 weeks. Within the following 8 to 10 weeks, We will go through and see what looks best. We'll pick out the best looking stems, most interesting shapes, and a variety of sizes. We will then send you photos of a variety of compositions for you to pick from. After deciding on a design, you can pick the wood frame. And you can choose if you'd like a large frame or collection of small frames, or mixture of both! So, you don't have to worry about purchasing or deciding until that portion of the timeline.
(A $100 non-refundable preservation fee is required at time of booking. Frames range from $200 [small frames] - $400 [large frames]. Large frames measure 14.5" x 17.5". Small frames measure 9" x 11". [Pricing reflects the 2019 deposit and cost.])
naturally dyed silk table runner / wall hanging
With the leftover, wilted, and bruised petals and blooms, We can use them to naturally dye a silk table runner / wall hanging. Extend the life of your flowers with this unique keepsake. This is also a great alternative when your flowers are already dried out from a wedding that took place even years ago!
If you'd like to add that onto your order you can let us know at booking!
some things that are good to know...
TIMELINE: A ton of time, care, & detail goes into each frame!
For Large frames the estimated timeline from flower drop off is 3-5 months.
For a collection of large & small frames the estimated timeline from start to finish is 3-5 months.
for small frames the estimated timeline from start to finish is 3-4 months.

For silk dyeing the estimated timeline from start to finish is 1-1.5 months.


We use whichever flowers and foliage come out of the presses looking their best. If your bouquet or sampling of flowers is mostly bigger flowers, or any of the flowers previously listed, please reach out before sending them. Please know white flowers are the least likely to press out and retain stark color. Every bump and bruise tends to show up after pressing white blooms.


Because the flowers and the process are natural and organic, please expect natural fading of color and browning over the years. Because we only naturally press the flowers in flower presses and do not chemically treat them, the change in color is organically expected and works well aesthetically. Know that the colors will continue to change. We at Framed Florals love how this reflects age and the passage of time, conveying that you weren't married just yesterday.

The Framed Florals COntract must be signed & deposit paid beofre the pressing process can begin.
Please inquire at this page here.
PLEASE ALLOW 3 - 7 BUSINESS DAYS FOR RESPONSES TO NEW INQUIRIES.